Tour news: The The, Gov't Mule, Metal Allegiance, more
3 min read
Here's a roundup of recent tour news. Check the Tour Dates category for more. GOV'T MULE Gov't Mule will be celebrating three decades as a band in 2024 on the 30 Years Strong tour. "Hard to believe it's been 30 years and Gov't Mule is playing with a newfound energy. Thanks, in part, to our new bass […]
The post Tour news: The The, Gov't Mule, Metal Allegiance, more appeared first on BrooklynVegan.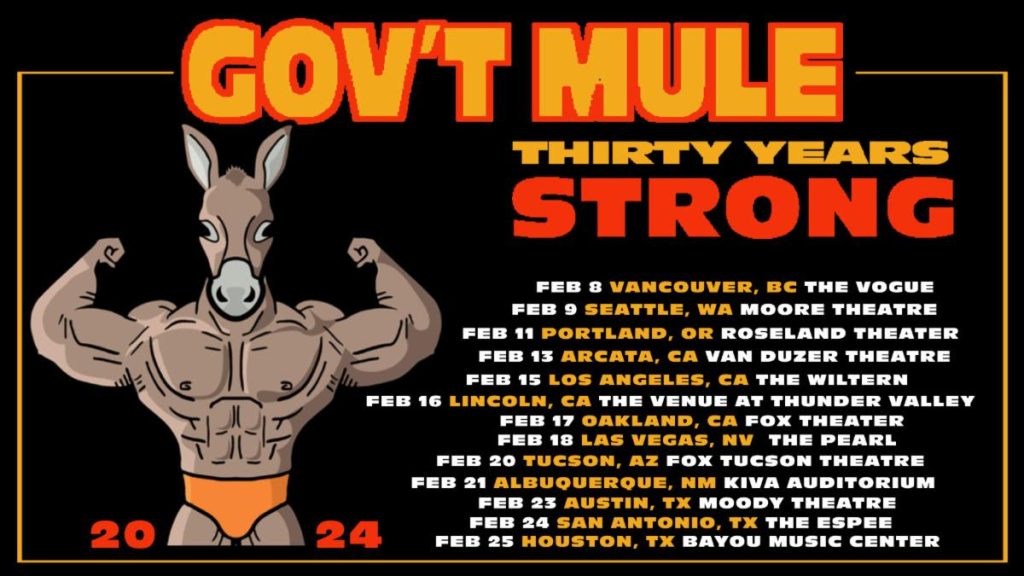 Here's a roundup of recent tour news. Check the Tour Dates category for more.
GOV'T MULE
Gov't Mule will be celebrating three decades as a band in 2024 on the 30 Years Strong tour. "Hard to believe it's been 30 years and Gov't Mule is playing with a newfound energy. Thanks, in part, to our new bass player, Kevin Scott, who is doing a fantastic job," says bandleader Warren Haynes. "It's going to be fun delving into our past for this tour while creating new music at the same time." So far only West Coast and Southwest dates have been announced. Before that, Gov't Mule have dates in the South this month, and will help ring in the New Year with shows at NYC's Beacon Theatre on December 30 & 31. All dates are here.
THE THE
Matt Johnson has announced the first The The shows in four years, happening in Edinburgh, Wolverhampton, London and Manchester in September 2024. Johnson said The The "will also head out globally next year on their Ensouled World Tour, full details of which will be announced shortly." Stay tuned for more details. The The brought The Comeback Special tour to NYC in 2018.
SICK NEW WORLD 2024 LINEUP
The nu metal-leaning Sick New World festival will dip its toes into classic shoegaze/slowcore in 2024, alongside A Perfect Circle, Alice In Chains, Lamb of God, Loathe, Drain, Vein, Code Orange, Better Lovers, and more.
GUNS N' ROSES
Guns N' Roses helped kick off the inaugural Power Trip festival on Friday with Iron Maiden, and they'll now wrap up their 2023 tour in Los Angeles for their first-ever shows at iconic LA venue Hollywood Bowl.
JORJA SMITH
Having just released her new album Falling or Flying, UK artist Jorja Smith has announced a pair of special celebratory US shows this month.
ZACH BRYAN
Zach Bryan announced his 2024 "The Quittin Time Tour" in August, and now he's added a bunch more shows to the run.
SWEET HALLOWEEN
Seth Herzog holds the October edition of his long-running monthly NYC comedy series SWEET on October 17 at Chelsea Music Hall. Guests this time include the great Mark Normand, Arden Myrin (Marvelous Mrs Maisel), Daniel Van Kirk (Pen Pals podcast), John F O'Donnell, Brooks Allison, and surprise guests.
METAL ALLEGIANCE 10TH ANNIVERSARY
Thrash supergroup Metal Allegiance — featuring David Ellefson (Megadeth), Mark Menghi, Mike Portnoy (Dream Theatre) and Alex Skolnick (Testament) — will celebrate their 10th anniversary on January 25 at House of Blues Anaheim. Joinging them will be John Bush (Armored Saint), Chuck Billy (Testament), Troy Sanders (Mastodon), Brann Dailor (Mastodon), Andreas Kisser (Sepultura), Bobby Blitz (Overkill), Gary Holt (Exodus/Slayer), Doc Coyle (Bad Wolves / God Forbid), Hel Pyre (Nervosa), Chris Poland (ex-Megadeth) and more TBA. "When Metal Allegiance first came together in 2014, no one could have guessed that ten years later, we'd be planning this anniversary show," says Skolnick. "The world feels different now than it did then, but we're still here, music still unites and that is cause to celebrate. Among the many MA highlights over the past decade have been our shows in Anaheim, which always create a lot of great memories. This time will be no exception and no better way to mark our ten-year milestone. See you there!"
JOHN ROBB 'HISTORY OF GOTH' BOOK TOUR
John Robb, frontman of long-running group The Membranes and founder of music site Louder Than War, released The Art Of Darkness – The History Of Goth earlier this year, and is in the US this month promoting it with special book events.
—
Check our Tour Dates category for more.
The post Tour news: The The, Gov't Mule, Metal Allegiance, more appeared first on BrooklynVegan.