Stephen Curry Tries His Hardest To Win Jump Ball Over Victor Wembanyama: Watch
2 min read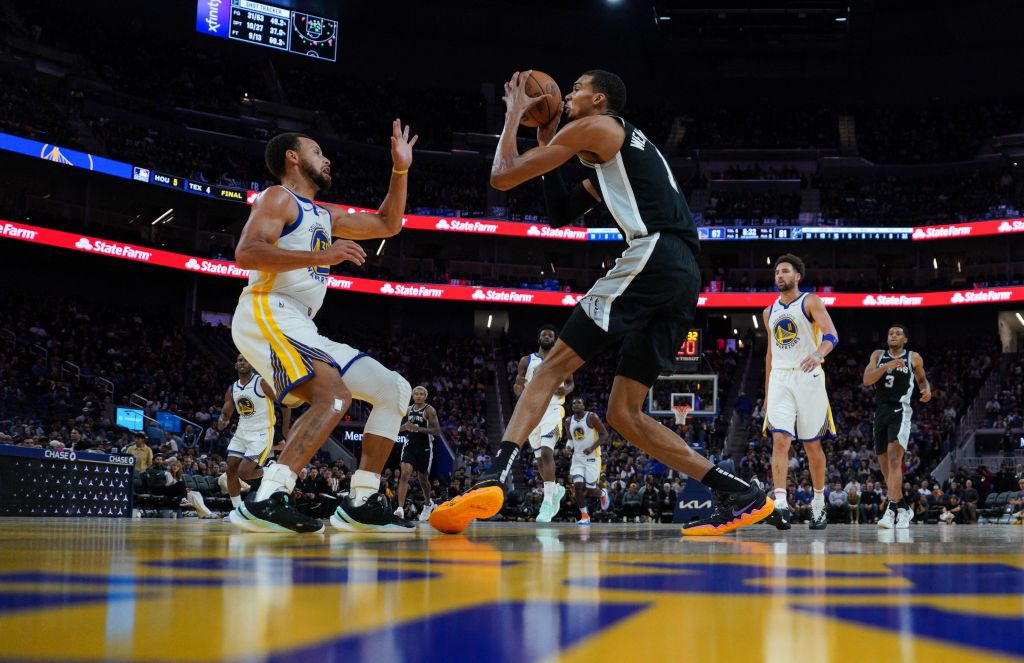 Stephen Curry caught the attention of NBA fans on social media, Friday night, by seemingly trying his hardest to beat out Victor Wembanyama for a jump ball. Curry, who measures 6' 2" didn't come close to outreaching the 7' 4" rookie. Wembanyama has been taking the league by storm since the San Antonio Spurs drafted him first overall in the 2023 NBA Draft.
Curry and Wembanyama faced off during the Spurs' 122-117 win over the Golden State Warriors in their preseason matchup. In response to the jump ball, one fan tweeted: "Looks like he's having fun with that. He seems to have a bit of a smile on his face." Another joked: "He should have taken it with a ladder."
Read More: Victor Wembanyama Bounces Back With Massive Summer League Performance
Steph Curry Defends Victor Wembanyama During Preseason
Prior to the game, Warriors head coach Steve Kerr remarked that Spurs head coach Gregg Popovich was "rejuvenated" by Wembanyama. In response, Popovich jokingly took offense. "What was I being rejuvenated from?" Popovich asked. "Was I in a mental institution or was I depressed and curled up in my bedroom or something?" Pop added: "Steve's an a**hole."
Steph Curry Tries To Outreach Victor Wembanyama
Steph is taking this jump ball with Wembanyama so seriously pic.twitter.com/zBTPARTRnK

— Marcus Thompson II (@ThompsonScribe) October 21, 2023
Wembanyama recently discussed the influence Pop is having on his development with San Antonio Express-News. "This is how I also recognize how good of a person he is," Wembanyama said. "He just learns, he just learned to know me, quicker than almost anyone I've met in my life before." He added: "I don't want to limit myself to what's already been done. I don't want to limit myself to what's conventional." Be on the lookout for more updates on the Spurs rookie as the regular season begins later this month.
Read More: Britney Spears And Victor Wembanyama Address Alleged Vegas Slap
[Via]
The post Stephen Curry Tries His Hardest To Win Jump Ball Over Victor Wembanyama: Watch appeared first on HotNewHipHop.