Spooky News and Sustainability Updates: News Trends from September and October
6 min read
After monitoring nearly 40K press releases sent via PR Newswire, these are a few of the news trends that stood out in September and October.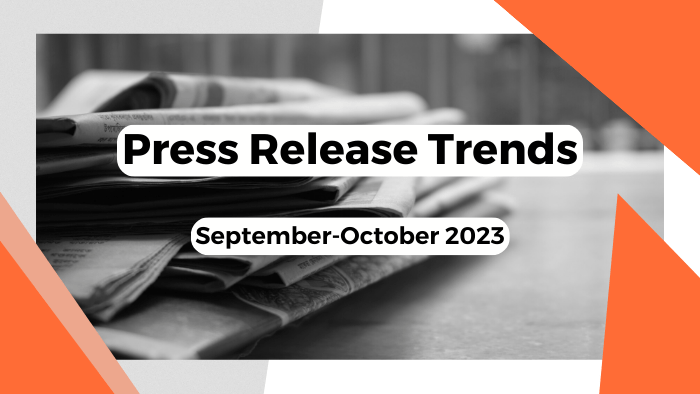 PR Newswire distributed nearly 40,000 press releases in the U.S. and Canada in September and October – so we understand if you had trouble keeping up, even if you're already registered for PR Newswire for Journalists. To help out, our team monitored the headlines for some of the major industries and made note of any trends they spotted.
Leading up to Halloween, the holiday took over the wire with plenty of unique announcements in the expected consumer and entertainment industries, but the spooky content also reached into other industries like tech and energy. Brands across the country also took the wire to share their campaigns and products in recognition of Hispanic Heritage Month. Lastly, green news continued to be a force as companies and organizations announced sustainability initiatives to make the world a better place.
Below, we dig into some of the major news trends over the past couple of months.
 Popular Releases
Regardless of larger trends, some releases just draw a huge audience because they are that big or interesting of a story. These were a few of the most-read releases of September and October, which covered a wide variety of topics and industries:
Below, we dig deeper into the larger trends spotted on the wire.
Halloween
Spooky season was in full force on the wire. During the two-month period, PR Newswire distributed more than 150 announcements tied to the October holiday.
But it wasn't all candy and costume news. Companies and organizations across a range of industries, from food to entertainment, tech and beyond, got in the spirit of things and shared their holiday-related press releases.
Here are a few that stood out:
Find more: If you were indeed in zombie mode when it came to following press releases, catch up now and read the full list of Halloween-related headlines.
Hispanic Heritage Month
Hispanic Heritage Month was recognized from Sept. 15-Oct. 15 and our team saw an expected increase in the number of the releases tied to the Hispanic community. During the two month period, PR Newswire distributed nearly 70 releases that mentioned Hispanic Heritage Month.
Companies across industries paid tribute to the Hispanic community in a variety of ways, including scholarships and awards, new products and promotions, and special events.
In case you missed it, here are a few of them:
Find more: Read our recaps of Hispanic Heritage Month news in our recent blog posts reviewing news trends in the people/culture and entertainment spaces.
Sustainability
Sustainability is a constant trend on the wire, but it's one that had a standout presence among the headlines in September and October. The United Nations Climate Change Conference, COP28, which will take place in Dubai from Nov. 30-Dec. 12, was mentioned in a number of releases, and the team also saw a variety of stories announcing new sustainability initiatives, companies' latest climate targets, awards, and more.
Recent research from Bain & Company shows more than 60% of businesses are off track to meet their current sustainability goals. With such a long way to go, we'll continue seeing these types of headlines cross the wire.
In all, PR Newswire distributed nearly 7,000 releases mentioning "sustainable" and/or "sustainability."
Find more: Catch up on recent sustainability headlines in our blog posts covering the news trends in the environment, policy/public interest, food/beverage, sports, and transportation industries.
More News Trends
Want to dive deeper into the news trends for the industry you cover? Our team has compiled the trends and top releases across more than 10 industries for September and October. Find them all on PR Newswire's Resource Center.
Want to see more news like this? Keep up with the latest news in your coverage area with a customized newsfeed. Click here to sign up now or email us to fine-tune your existing profile.