October Jobs Report, Top Thanksgiving Side Dishes, Crocs Takeback Program | This Week on PR Newswire
4 min read
Also among the week's big press releases, SKIMS partners with the NBA and Doritos goes "silent" for gamers.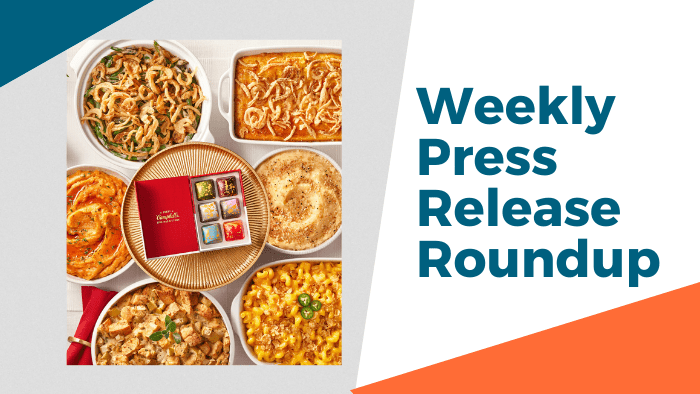 With thousands of press releases published each week, it can be difficult to keep up with everything on PR Newswire for Journalists.  Here are some of this week's most newsworthy.
To help journalists stay on top of the week's most newsworthy and popular releases, here's a recap of some major stories from the week that shouldn't be missed.
The list below includes the headline (with a link to the full text) and an excerpt from each story. Click on the press release headlines to access accompanying multimedia assets that are available for download.
"No single industry dominated hiring this month, and big post-pandemic pay increases seem to be behind us," said Nela Richardson, chief economist, ADP. "In all, October's numbers paint a well-rounded jobs picture. And while the labor market has slowed, it's still enough to support strong consumer spending."
"I am incredibly proud of SKIMS partnership with the NBA, as it is a reflection of SKIMS growing influence on culture," said Kim Kardashian, Co-Founder & Creative Director, SKIMS. "Together, SKIMS and the NBA will connect people of all backgrounds through fashion, sport, and talent, and I look forward to seeing the partnership thrive."
More than two-thirds of Americans (67 percent) say democracy in the U.S. is on the wrong track, and 77 percent think democracy is in jeopardy. These are the results of a new national survey sponsored by The George Washington Presidential Library in publicity partnership with the University of Virginia Center for Politics.
About half (48%) of Americans intend to travel this holiday season. Intent to travel between Thanksgiving and mid-January is up across all age and income groups with an average holiday budget of $2,725.
According to the survey, 67% prefer side dishes to the entrée, which is up by one percent from last year's report. The most popular side dishes this year are mashed potatoes, stuffing/dressing, mac and cheese, yams/sweet potatoes, and green bean casserole.
The crunch is a key reason consumers love Doritos. With this new 'crunch-cancellation technology,' Doritos gives gamers the ability to continue enjoying the crunch without disrupting their fellow players' performance.
Follow Up Boss gives teams and agents a central hub to stay organized, engage customers, close deals and grow their production. As part of Zillow Group, Follow Up Boss will be able to invest further in improving its product offerings, helping their clients deliver the best possible customer experience while supercharging their businesses.
This year, Dutch Bros' Holiday Trio includes the Hazelnut Truffle Mocha, the Merry Mischief Rebel and the Snow Cap Freeze. "Celebrating the season with a variety of innovative drinks is what we do best," said Tana Davila, chief marketing officer at Dutch Bros. "This year's lineup is a nod to all the seasonal favorites we love but with a Dutch Bros twist!"
This investment adds capacity to support battery electric vehicles (BEV's) and plug-in hybrid electric vehicles (PHEV's). An additional eight BEV/PHEV battery production lines will be added to the two previously announced, for a total of ten battery lines.
This program invites consumers to give their old Crocs shoes new life by bringing them into Crocs retail stores in select states. Crocs will then leverage partnerships and product innovation to strive towards giving each pair donated a next use.
"As companies build AI-enabled applications, there will be a substantial increase in the amount of data transferred to the cloud. Dig's highly innovative DSPM technology helps safely enable this shift, and its dedicated team will complement and help advance Palo Alto Networks' strengths across cloud security," said Lee Klarich, Chief Product Officer for Palo Alto Networks.
The creation features classic turkey, creamy gravy sauce, diced sweet potatoes, colorful green beans and cranberries, rich mozzarella and cheddar cheeses plus a crispy onion topping – all loaded on top of a thick and chewy Detroit Style crust.
Read more of the latest releases from PR Newswire and stay caught up on the top press releases by following @PRNalert on Twitter.
Can't-Miss Earnings
In addition to these popular releases, several must-read earnings reports crossed the wire this week, including the quarterly results for Fox Corporation, Eli Lilly, Airbnb, and Wayfair.
Catch up on all the latest earnings reports here.
Want to see more news like this? Keep up with the latest news in your coverage area with a customized newsfeed. Click here to sign up now or email us to fine-tune your existing profile.