Need Holiday Content for Your Site? Look No Further.
4 min read
Here's our roundup of recent holiday news to help fill your site through the rest of the year.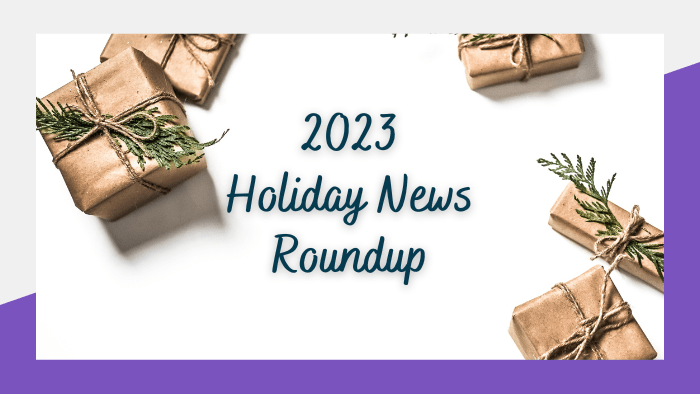 While you might be watching your colleagues start off on their vacations or staycations, you've got more holiday feature writing to do. This annual deadline might not always lead to your most creative writing.
Thankfully, you've got a place to go: PR Newswire for Journalists can help journalists and bloggers fill those empty spaces on their websites with compelling holiday news content.
When readying your site for the holidays, we've got you covered.
Standalone Holiday News Stories
Thanks to content marketing, news releases have become great vehicles for storytelling. Marketers and publicists know you're pressed for time and low on staff through the new year, so they're making releases easier than ever to use.
Even if you completed your holiday gift-giving guide or roundups months prior, you likely must continue updating your website. So unless a major news event occurs, you're probably still recycling the same ideas, tweaking them a bit, and adding a 2023 or 2024 label.
A quick search of recent releases uncovered these announcements, which can be used as standalone or evergreen holiday pieces:
Holiday News with Multimedia
If you're searching for high-resolution images and/or videos, you're in luck – many releases sent via PR Newswire include multimedia elements, making them easy to download and add to your story.
Feel free to publish photos, logos, and videos without worrying about copyright issues. Everything on our newswire is fair game for use.
Here are just some of the images you might find if you search for holiday news on PR Newswire for Journalists:
Holiday Shopping News & Gift Guides
'Tis the time of year for consumer and retail companies to announce new products and savings for consumers. And similar to recent years, many of the holiday sales are starting early, have been extended over several days/weeks, or have moved entirely online, so it's important for journalists and bloggers to keep up with the latest announcements.
If you're putting together a deal guide, a list of gift ideas, or holiday budgeting tips, a custom newsfeed on PR Newswire for Journalists will help you find the perfect holiday content to fit your needs.
Here are some recent press releases related to holiday shopping:
In addition to gift guides and shopping trends, brands are also diving into how consumers' purchasing decisions will be affected by inflation, the supply chain, and the general economy this season:
Holiday Travel News
Whether travelers are looking for a picture-perfect winter getaway or want to escape the cool weather and relax on the beach, holiday travel is booming. According to Deloitte, 48% of Americans intend to travel this holiday season and intent to travel between Thanksgiving and mid-January is up across all age and income groups.
Here are a few recent holiday travel news stories you might have missed.
Need to follow up? That's easy.
If you decide to make a few calls to supplement the press release content, finding a source to interview isn't impossible, even at this time of year.
Every release that crosses our newswire comes with a media contact in the release. Email and phone numbers are standard, and these folks are ready for your questions.
Finally, if you've not already tried our ProfNet or HARO services, give them a try. There are thousands of sources available for interview at any time.
Subscribe to Beyond Bylines to get media trends, journalist interviews, blogger profiles, and more sent right to your inbox.