Interview: CURL
11 min read
Mica Levi, Coby Sey and Brother May reveal the history of one of the UK's most unique musical collectives.
The post Interview: CURL appeared first on Fact Magazine.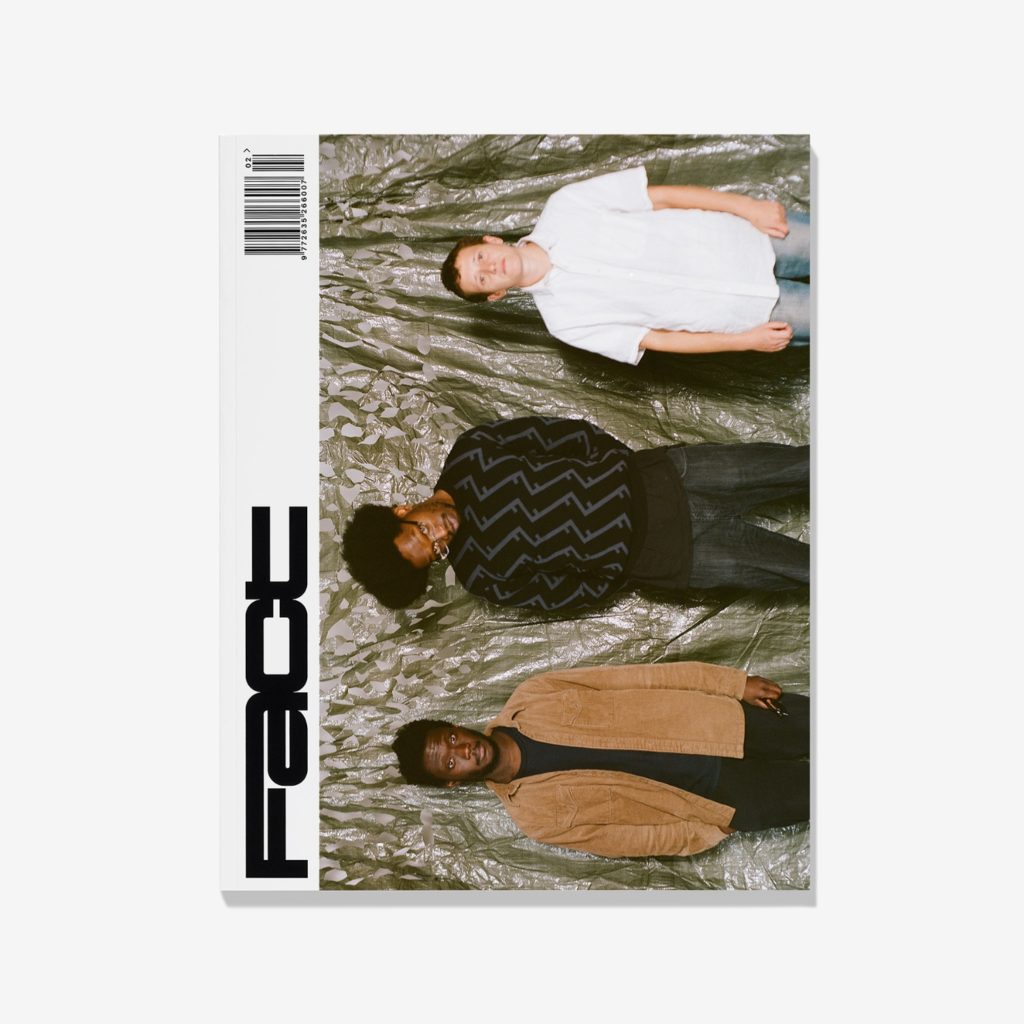 Mica Levi, Coby Sey and Brother May reveal the history of one of the UK's most unique musical collectives.
This feature was originally published in Fact's A/W 2021 issue, which is available to buy here.
For a long time, the definition of what CURL actually is has been rather vague. It's roughly an idea that became a hand-drawn logo and a mixtape; a one-off show, then a live program; a compilation, a label, a touring band. The project — let's call it a collective — is now five years running and a full-blown organism, sustained by a core of three organisers based in South London and an affiliated scene of peers, friends and fans stretching out into other countries. There are about 50-plus multidisciplinary members who are part of said indefinable milieu who are presumably, but not necessarily, united by a common love of music. 'If they don't, they're very good at hiding it', says Coby Sey, speaking via video chat on a four-way group call with two other CURL co-founders and me. There are connectivity issues. Mica Levi is racking their brain to disprove this audiophile theory of the collective's single fundamental requirement. Brother May (rightly) thinks it's a moot point: 'They put out music, so it would be quite confusing.'
It's the week of a relatively rushed and last-minute photo shoot for CURL, who've managed to muster together their epic band of affiliates into a single space in the middle of a pandemic. Their original venue of choice, Rye Wax, is too small to accommodate the numbers. Their second, as is usually the case with once-squatted-industrial-buildings-cum-government-funded-regeneration schemes is now home to more permanent tenants and therefore not available. Levi is quarantined with coronavirus, so the original date has been moved a week later than originally intended and the group will be taking up residence in the concrete second-floor basement space of 180 The Strand for the weekend.
CURL Compilation 2 contributors Pelin Pelin and baby___asl are among those who show up on the Saturday. Roxanne Tataei and Halcyon Veil label artists CJ Calderwood and junior xl of Lol K are there on the Sunday. Not everyone, of course, can make it on such short notice, and it would be impossible to corral together every single CURL member in one place at the best of times, let alone right now. Those who can't be there will be represented by black-and-white photos, if they submit them. An image of one or two will be held up to the camera from smartphones. The rest will be there in spirit, only to be scrappily represented in print through a collage of photographer Joseph Hayes's images taken in a heap of seemingly random objects strewn across the concrete floor—tin foil, mic stands, caps, dried moss, some fruit. 'It is kind of warts and all', says Levi, on the intractability that is the CURL beast and its unruly reliance on contingency. 'Without sounding too cheesy or stupid about it, part of the changing, last minute, "hanging on" of everything is it gets messy, and that's what I really like about it.'
What 'it' is, is still up for interpretation. Drawing a line under where it all began is even more complicated, with each of the three co-founders having their own idea of how it started. 'I feel that CURL is just one of the times that we've decided to formalise what we do and put a name on it', says Sey, explaining that the name is but a chapter of a much longer timeline of iterations: 'like a specific book of a series of books'.
Perhaps one of the clearest proto-formalizations of the scene happened in 2015, at a house party next to a pub in the London borough of Loughborough Junction. Organised by honorary CURL member and then-Kemerton Road housemate Hannah TW, the event saw producer Sey sing for the first time to a live audience, debuting tracks from his 2017 Whities 010: Transport for Lewisham EP release. He later played sampler and drum machine in an improvised noise and ambient set with musician and drummer for Kae Tempest, Sampha and the late MF Doom, Kwake Bass. Dean Blunt collaborator Joanne Robertson performed her druggy lo-fi grunge too, as did Micachu & The Shapes members Marc Pell (aka Suitman Jungle) and Raisa Khan, at around the advent of the band's Good Sad Happy Bad name change. Farai ally and solo artist Tony Harewood and TØNE bandmate Joe Marshall also performed, right there in Levi's bedroom. It was packed with friends and acquaintances about a year before the three-storey shared house was sold and its occupants dispersed.
'I would say that even though there are all those ties and lineages, what's interesting about Coby mentioning that Loughborough Junction gig is that it's kind of not too far behind and everyone was starting to sort of develop in a certain direction', Levi clarifies. 'But I have to say, some people who were in that gig are in CURL and some people aren't, so the genesis of other artists, and the live iterations of CURL, and the feeling and the tone, and the new people that got involved was really set up in Rye Wax.' Starting almost exactly a year later in July 2016, the dark and low-ceilinged surroundings of the Peckham Rye record shop and nightclub played host to the first CURL series program, which opened with performances from Tirzah and Jacob Samuel. There was a CURL x Tenderfoot event at the Elephant and Castle community garden Grow Elephant (now gone) that Roberston played with Kool Music, as well as another improv set by Sey, along with Ben Vince and Bianca Scout. Series two back at Rye Wax would consolidate CURL as an incorporated collective by having only unannounced performances from the likes of Brother May, Blu Rainey, TCR and Leah Walker (aka Relax Kevin). The next year, in 2017, the ever-morphing project would make it all the way into Serpentine Galleries' Park Nights live performance program, including Sudanese opera singer Mohamed and DIY café and womxn-run cooking collective Chats as part of its extensive lineup. 'I'd say a lot of people who are involved will have known each other for years, but CURL started in 2016', clarifies Levi, interjecting on Sey's suggestion that the collective has existed in one form or another since well before then. 'There was a moment where everything kind of switched together and became organised in a specific way, which I guess is what we're talking about.'
For context, it is possible to look even further back, to the germination of a sound spanning north and south east London at the point where the city's punk and rock legacy met British hip-hop and electronica in the mid-2000s. It was here that an early evolution of a post-grime scene emerged with the music of DELS, Ghostpoet and Hot Chip; The xx, Jack Peñate and The Invisible. Theirs was a tumbledown electroacoustic aesthetic, where rap emcees would perform to live instrumentation, while samplers and drum machines were a crucial addition to any band. Often connecting through MySpace and recording at home, these unexpected associations developed at the height of a newly digitised mixtape culture, yielding tracklistings of seemingly disparate musical styles that were loosely strung together on drops like Levi's Kwesachu mixtape collaborations — as Micachu — with Sey's older brother, Kwes. This vital approach to cross-genre collaboration and experimentation endures with CURL, where a miscellaneous selection of contributing artists — like Ben Babbitt, T.M.D.S., Bunny Hoova and Ydegirl; Klein, Sissy Fuss and siblings Rebecca and Olivia Salvadori — are presented in two diverse yet surprisingly coherent CURL compilations.
The very realisation of this interview feature — a first for CURL — is the result of years of incidental interactions with said scene, having myself moved to London in 2011 and taken part as mostly a spectator since meeting, and befriending, Levi in Australia 12 years ago. They were touring Micachu & The Shapes's first album Jewellery — released on Matthew Herbert's Accidental Records in 2009 — with bandmembers Pell and Khan, while I was still living where I was born, in Perth. There was a Bandstand Busking video uploaded to YouTube around the same time, a live acoustic version of the cycling avant-pop track 'Curly Teeth' performed on the band's famously makeshift instruments of food tins and adapted guitars. While its scrappy presentation and accompanying verve for contingency carries into the approach of the CURL collective, you'd be wrong if you thought that song had anything to do with the name. 'It just came to my head randomly because I remembered there was a time in 2013 where Mica had a studio at Trinity Buoy Wharf, you know near the East India Dock in East London,' explains Sey, famous among friends for his far-reaching recall ability with oddly specific detail. 'For some reason the memory popped up in my head of Mica buying a Curly Wurly chocolate.'
The need for a name came when Levi and longtime collaborator Brother May were looking to release EP May and Meeks in 2016, deciding they might as well do it themselves. 'Mica suggested that we self-release, and that we do it with Coby because Coby was thinking of starting a label. We could just join forces and do it together as a trio', Brother May recollects. 'We had this project and we were like, "what should we call it, Curly Wurly, Curl, Curl Recordings, Curly?" We had a few different names in a hat but, to cut a long story short, we all agreed with Curl Recordings.' It was from that point that the project developed into a logo, drawn by hand by Brother May and digitised by Coby, then a program at Rye Wax, naturally unfolding into what it is today. 'It's sort of like a tree. We all act as the roots really, but us three keep it afloat through activities and contacting people for compilations; trying to push the agenda for us to kind of work together. Not that we don't work together already, but inviting people down to shows, collaborating more with everybody that we can', Brother May adds. 'CURL can support our friends as much as our friends can support us.'
As both one of these supporting members and an observer of CURL's evolution since well before it became established with a name in 2016, I didn't really get it. I knew about some of the releases and went to some of the events. One show being the acapella group Yololala performing an Icelandic hymn and a Bulgarian wedding song in the darkened blue glow of Rye Wax, alongside the minimal guitar rhythms of Business Lunch, the melodic hip-hop of MC Mali and a cello instrumental accompanying Suny in 2016. The choir would later arrange and perform a Taylor Swift cover as AKA Pellah at my own book launch, organised with CURL at The Yard. But when it came to describing the trio's live performances as a touring band — often but not always with one or two additional members — I had never seen one and I was stumped. It wasn't until October 2019, when the band were invited to a festival I work with called 3hd, that Sey's assertion that CURL is 'a feeling, not a sound' made sense.
The core CURL trio were due to fly to Berlin from London and play that night, but due to unforeseen circumstances, Brother May couldn't make it in person at the eleventh hour. We needed to find a replacement. As the Creamcake organisers frantically suggested professional musicians who could fill in for bass, Levi's request was clear: 'We want Steph to play.' I've worked as a music journalist for all of my adult life and I had learned a couple of instruments at school, but it had been a decade since I'd picked up a guitar and I'd never even held a bass. But CURL was insistent and I wasn't about to turn down the opportunity to do something so outrageous as to share a stage with a group of world-class performers at one of my favourite international festivals. Director Akinola Davies Jr. would take part too. He'd been assigned a drum machine and a microphone, where he'd mostly chant the instructions from a dance called 'The Electric Shuffle', which features in his short film collaboration with the group. Titled after a pun on the three CURL founders' names, Mayonnaise, Corn on the Cob and My Car also screened that night. With barely a rehearsal, each of us was assigned a wig for no apparent reason, the audience was given chalk to write on the floor and we took to the darkened stage. I had my back turned to the audience for the duration of the performance, beating my bass strings in dialogue with the rest of the band for the next 45 minutes of drone, noise and rhythm in a communal ritual of improvisation and trust that was pure sensation. The experience was transcendent. 'It's never enough', says Coby, explaining the band's refusal to describe their performances in words. 'Sometimes it's better to show people than to tell people something. I know it can be a bit clichéd to say what I just said, but it's kind of nice to just let people figure it out whenever they're ready to.'
There's chalk on the floor at the photo shoot in London too. It's part of CURL's undefined intention to call back to their trips out of the city via the props that they'd used in the past. There's a tarp hanging on a wall, and another on the floor with clumps of dry vegetation scattered in heaps on top of it. Apples. There's a boom stand or two and a couple of mannequins holding head shots of absent members. One of the studio lights is broken so they'll have to improvise. Brother May's track 'Demanding Love' — produced by Sissy Fuss's Rudi Zygaldo — is playing at full volume while a bewigged Sey moves to the rhythm and strikes a pose. PK Brako nods along. It's unclear what's happening for most of the combined seven hours that the group have the basement booked out on the weekend. Brother May is filming for Instagram, as he always does, pointing his lens and shouting out Ben Vince and Alpha Maid. There's a hand signal from Wu-Lu, a whoop from Silv-o and a smile from Daisy Moon. The chalk scrawlings on the concrete are indecipherable — an ecstatic explosion of childlike energy embodied by the single discernible drawing of a hopscotch grid next to a rainbow wave of colour. The scene is a picture of CURL's raucous vibe and messy eventuality, suffused with a feeling of love and joy. Perhaps it's not even music that is the fundamental requirement of membership in the CURL collective after all, but the mutual good will of ordinary friendship.
WORDS: Steph Kretowicz
PICTURES: Joseph Hayes
CURL photo shoot, 180 Studios, August 2021
PRODUCER: Izzy Moriarty Thompson
PHOTOGRAPHY ASSISTANT: Max Avery
This feature was originally published in Fact's A/W 2021 issue, which is available to buy here.
Read next: Interview: United Visual Artists
The post Interview: CURL appeared first on Fact Magazine.