Getting To Know Higher Power Ent.
2 min read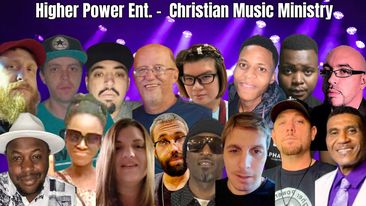 Founded in 2020, Higher Power Ent. continues to shine brilliantly amidst the ever-evolving musical terrain. Our collective has brought together a dynamic cohort of dedicated artists, each epitomizing an unwavering belief, a steadfast commitment to authenticity, and an unparalleled work ethic for Christ.
These musicians are not just crafting melodies; they are embarked on a divine mission to ignite the souls of a new generation, connecting with those who share a deep affinity for the timeless vibes of Hip Hop/R&B, the profound depths of Blues, the unrestrained force of Industrial, and the serene serenity of Worship.
Nestled in the awe-inspiring surroundings of Colorado Springs, we take great pride in nurturing the most steadfast believers in the realm of music. We warmly invite you to immerse yourself in the melodies of devotion, embark on a sonic journey, and delve deeper into our faith-infused collective. We extend an open invitation for you to join this extraordinary voyage, where music and spirituality harmoniously converge, propelling us to new and unprecedented heights. For all things Higher Power click this link!
https://higherpowermusic.wixsite.com/website?fbclid=IwAR13NPF3y3Fj2jDdystpiz3IECGfCwfIQSzm-BLCgVnmDYX5kVFalZvbLxI&fs=e&s=cl&mibextid=Zxz2cZ
Chosen Broken (Higher Power Ent.) a Kansas City native, struggled with self worth and depression until he found Jesus and found his mission in God! He now speaks life to people on a massive scale. Chosen just dropped a viral gospel Hip-Hop single called "I wanna thank you Jesus".
OG Williams (Higher Power Ent.), a Joppy TX native, lived a life of gangs and violence. OG went to prison for many years, He found God in there and was gifted with the ability to Rap for God! From putting out hits to making hit records! Check out the hit record "Poor Family".
DjTuNeZ76 (Higher Power Ent.), a Darlington UK native is killing the music scene with multiple hit records such as the "4 Corners LP". He is a multi genre DJ / Producer and is on all well know for his unconventional style on streaming platforms!
AJC (Higher Power Ent.), a Covington UK native has been putting out hit records left and right! He is viral on multiple platforms and does massive collabs with greats in the hip-hop and old-school genres! Check out the song! https://spotify.link/yL44238fcEb
Eric Cohen (Higher Power Ent.) a Kansas City Missouri native says he I come from a home of addiction and he himself succumbed to the temptation of drugs and alcohol at an early age. Eric struggled with addiction and depression. Eric found God now ministers to masses through his Hip-Hop music! Listen to "On The Edge". https://spotify.link/MdJgLAlgcEb