Fact launches new print issue featuring Evian Christ, BAMBII, UVA and Devon Turnbull
2 min read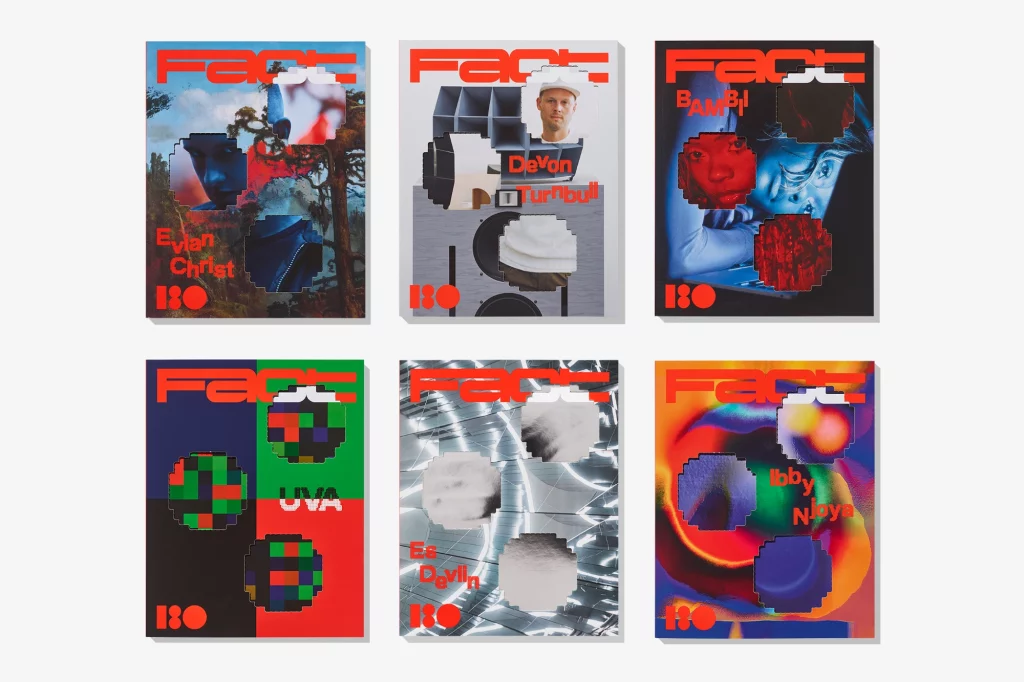 Fact's F/W 2023 issue can be bought now from The Vinyl Factory's online shop, the exhibitions at 180 Studios or from the stockists listed at the bottom of the page.
Evian Christ, BAMBII, UVA, Devon Turnbull and Es Devlin feature on the cover of Fact's F/W 2023 issue, which shines a spotlight on artists who are creating remarkable experiences where art and music intersect.
This issue's features include interviews with Devon Turnbull, whose serene Listening Room will find a permanent home at 180 Studios in 2023; BAMBII, the breakthrough DJ/producer inspired by her Jamaican roots who shapes not only how we listen to music, but how we gather and dance; Ibby Njoya, a 180 Studios resident, whose mesmerising, hyper-colourful digital paintings were produced exclusively for this issue; and Evian Christ and 33EMYBW, who are pushing electronic art in new directions, evident in both their music and creative collaborations for Fact 06.
The issue ties in with two spectacular new exhibitions currently being staged by 180 Studios and Fact – United Visual Artists' largest show to date, Synchronicity, and Cosmos, an exhibition by Es Devlin for Gucci. Both artists contribute original artworks for this print issue, and both are as fundamentally inspired by sound as vision.
Also in Fact 06 is an original piece by writer and scholar McKenzie Wark, whose written homage to the transcendental power of club music is both deeply personal and universally powerful; an interview with American visual artist Tschabalala Self; and a feature exploring the artists and developers pushing video game sound in creative directions.
Fact's F/W 2023 issue can be bought direct from The Vinyl Factory's online shop, from Boutique Mags, the exhibitions at 180 Studios or from the stockists listed below.
Stockists:
180 The Strand, London
Artwords, Broadway, London 
Artwords, Riv St, London  
Barbican News, London   
Charlotte St News, London   
Good News, London  
Magazine Brighton, Brighton   
MagCulture, London   
Magma, Covent Garden, London   
Magnum News, London    
Phonica Records, London 
Rainbow News, London   
Rare Mags, Stockport   
Stack Mags, London  
Unearthed Sounds, Poole  
Unique Magazines, Newcastle  
Village, Leeds 
Actual Source, Provo   
Amen, Madrid  
Athenaeum, Amsterdam    
Basheer Graphic, Singapore  
Eslite, Taiwan    
Garage, Moscow
Podipisne, St Petersburg    
Gudberg Nerger,  Hamburg
LMDS, Shanghai   
More More Artbook, Shanghai   
Odd Kiosk, Barcelona  
Papercut, Stockholm  
Post Nothing, Bogota   
Print Matters, Zurich   
Readallion, Kyiv    
Reading Room, Milan  
Rosa Wolf, Berlin    
Sendpoints, China   
Skylight Books, LA    
Smoke Signals, San Francisco  
Top Hat & Tales, Faversham  
Tonic UK, London 
Journals, Sydney 
Mag Nation, Melbourne 
IMS Stadsfeestzaal, Antwerp 
IMS Kaasrui, Antwerp
IMS, Hasselt 
Megusta Utrecht, Netherlands
Magalleria, Bath                                       
Marsell Paradiso, Milan
Barnes Noble (Various) USA                   
Books a Million (Various) USA
Allscript, Singapore
Read next: Interview: Malibu
The post Fact launches new print issue featuring Evian Christ, BAMBII, UVA and Devon Turnbull appeared first on Fact Magazine.