Eslabon Armado & Gabito Ballesteros Make 'Tonight Show' Debut, Plus More Uplifting Moments in Latin Music
3 min read
Plus, Pipe Bueno & Luisa Fernanda W are engaged.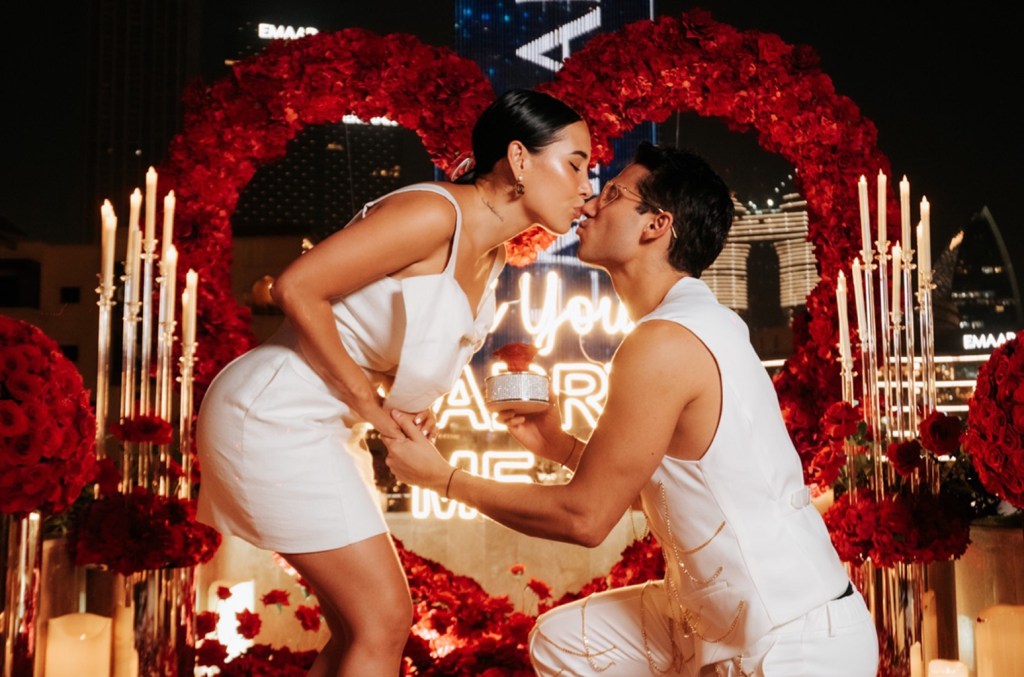 From career milestones to new music releases to major announcements and those little important moments, Billboard editors highlight uplifting moments in Latin music. Here's what happened in the Latin music world this week.
Eslabon & Gabito on The Tonight Show Starring Jimmy Fallon
Eslabon Armado made its late-night TV debut this week on Tonight Show starring Jimmy Fallon. The renowned Música Mexicana group was joined by Gabito Ballesteros—also his first time on Fallon—to perform their hit collaboration "La Fresa." "'The Tonight Show' is one of the top shows in the entire country, and I've grown up watching the show since I was a kid," frontman Pedro Tovar said in a statement. "I've always seen the biggest stars be on the show, and being able to perform on the Tonight Show starring Jimmy Fallon is a major milestone crossed in our career." Their performance comes on the heels of Eslabon's performance on Good Morning America, where they made history as the first Musica Mexicana group on the show. Watch their performance on Fallon Tonight below:
Pipe Bueno Pops the Big Question
After many years of dating, Pipe Bueno and Luisa Fernanda W announced their engagement this week. The Colombian power couple—he's a pioneer in the música popular genre and she's a famed social media influencer—shared photos and videos of their special proposal that took place at the Burj Khalifa Tower in Dubai. "Yes a million times," Fernanda expressed on Instagram. "I love you infinitely, only God knows these hearts and knows why he brought us together to share this beautiful life. I love you Andrés Giraldo (Pipe's real name)." Fernanda and Pipe, known for hits such as "Entre Botellas" with Grupo Firme and "Tequila" with Maluma, have two children together.
A Supportive Husband
Other lovebirds who made headlines this week are Lele Pons and Guaynaa. Pons, who's currently a competitor in ABC's Dancing with the Stars, shared a piece of her latest dance number on social media, where she and dance partner Brandon Armstrong are dancing to the 90's ballad "I'll Stand By You." "This dance is about feeling lost and finding someone who lifts you up and stands by you! My favorite dance by far!" she said of the contemporary dance. "This is one of my favorite parts of the choreography," she added, sharing the ending of the presentation where her husband and Puerto Rican artist, Guaynaa, meets her in the dance floor, hands her a red rose, and kisses her.
Latin Artists at the 2023 BBMAs
Many Latin artists are finalists at the 2023 Billboard Music Awards, presented by Marriott Bonvoy and set for Sunday, Nov. 19. The top Latin finalists are Bad Bunny and Peso Pluma with six nominations each, followed by Eslabon Armado and Karol G with five. The four acts are finalists in the top Latin artist and top Latin albums categories alongside Fuerza Regida in the former, and Fuerza and Ivan Cornejo in the latter category. Other Latin finalists include Shakira, Grupo Frontera, Yng Lvcas, and many more. Overall, Taylor Swift leads the pack as a finalist in 20 categories. You can click here to see the full list.
A Bichota Initiative
Karol G continues to give back to her fans and community, and this time, she's joined by professional race car driver Tatiana "Tata" Calderón. In benefit of the singer's Con Cora Foundation, "Tata" will be donating a replica of the helmet she wore at the 2022 Formula 2 for an auction. Designed by the Con Cora Foundation and signed by Karol G herself, the "symbolizes the unity and success of women who, through their hard work, are positively influencing the lives of many more women," according to a press statement. Currently on display at the paddock of the Formula 1 Mexico City Grand Prix 2023, the helmet is designed with Karol signature barbed heart, a butterfly representing "Tata," and the Colombian flag. The auction will take place from November 17 to 30 on the Bonhams Cars platform.