Chainsaws, Drinks, and Gear: October's Most-Read Press Releases
4 min read
Product announcements with multimedia drew the most readers on prnewswire.com in October. Here's our recap of the top press releases.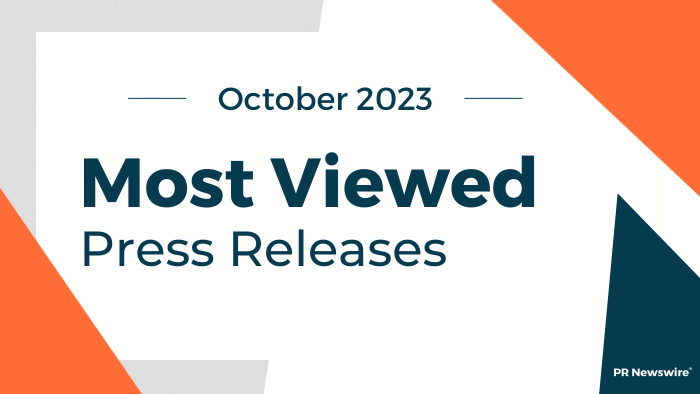 New product announcements – in wildly different industries and each one featuring eye-catching photos – ruled our site in October. Here's what caught the attention of prnewswire.com visitors last month, based on release views: 
The top release on prnewswire.com in October featured breaking news in the chainsaw world, apt for the month that includes Halloween. Greenworks debuted a new battery-powered chainsaw at the 2023 Equip Expo, the largest trade show for outdoor power equipment and lawn and garden equipment.
What works: "Revolutionizes" is not only a strong, unique headline action verb (compared to the templated "Announces"), it also pulls double duty, answering the "so what" that is vital for both trade journalists and interested consumers. The first three paragraphs flesh out that angle, explaining exactly how the new product impacts the industry and those who would find it useful.
Bonus points for a quote that focuses on the benefits to users rather than the company and a release body that's not overwhelmed by numerous links to other unrelated products (something we see too often).
Find more like this: Visit the Heavy Industry & Manufacturing page to view the latest announcements from companies in the construction, mining, agriculture, and chemical industries, among others.
A bold boxer unveiling new libations generated notable interest on among news consumers last month.
What works: Like the new beverage creator, the release keeps it punchy with easily digestible paragraphs and plenty of strategic bolding to command attention. The efficient use of drink-specific links makes perfect sense for this type of announcement, particularly those driving readers to Instagram, where this type of content is best consumed, appreciated, and shared.
Find more like this: Follow @prnfood on X for the must-see food and beverage news from PR Newswire.
Osprey is a reliable and trusted brand in the backpacking world, and its advance news about new pack launches next year as part of a milestone anniversary came in at No. 3. on October's list of most-viewed releases.
What works: Put a number in a headline, and you've got a pretty irresistible hook. Osprey doubles down on this by including "special edition" in the headline and adding a subheadline tempting backpack enthusiasts with the chance to "own a piece of history with the new limited-release" packs. The first two lines of the release manage to convey both an invitation to join an exclusive club and a sense of urgency to mark February 2024 on calendars so as not to miss the product launch. 
Find more like this: Add the Outdoors, Camping and Hiking code to your custom PR Newswire for Journalists newsfeed to receive the latest headlines in your inbox.
October's No. 4 release was also a product launch, again with a hint of exclusivity meets accessibility. In this case, Nespresso and Blue Bottle Coffee's partnership promises to bring a world-class coffee experience to people's kitchens.
What works: This release knows what its target audience wants and gives it to them: paragraphs describing the blend's pedigree and how to best enjoy the coffee ensure coffee connoisseurs or those just looking to add a touch of elegance to their coffee game have this product top of mind when it's time to stock up on the caffeine.
Find more like this: New product announcements are always popular with readers and dominate headlines across industries. Catch up on the latest industry news trends for an in-depth look at what our team is watching.
Rounding out our Top 5 for October is RayNeo's newest innovation in AR, or augmented reality.
What works: Releases like this can be tricky – there is a lot of information to convey around a highly technical topic as well as the necessary acknowledgements of partners, supporters, trade shows, etc. RayNeo applies two smart techniques here:
Placing the most important news and keywords in the first ~55-60 characters
If the headline cut off after "Smart Glasses," like on a search engine results page, it would still make perfect sense and would also include words and phrases like "3D Display" and "Smart Glasses" that are very likely to be used in online searches.
Bullets and bolded section headers
Tech journalists on tight deadlines get everything they initially need in the headline through the subhead bullets. AR enthusiasts and other interested consumers can scan the content and instead of potentially being turned off by the length, can easily find the sections that matter most to them.
Find more like this: Read the most recent consumer technology headlines, covering a range of topics, from AI to crypto, gaming, social media, and beyond.
Want to see more news like this? Keep up with the latest news in your coverage area with a customized newsfeed. Click here to sign up now or email us to fine-tune your existing profile.