Boyz II Men Revamp Chili's Jingle, Goodyear Announces Transformation Plan | This Week on PR Newswire
1 min read
Also among the week's can't-miss press releases: Toys"R"Us to open in Mall of America and Dwayne Johnson launches a debit card.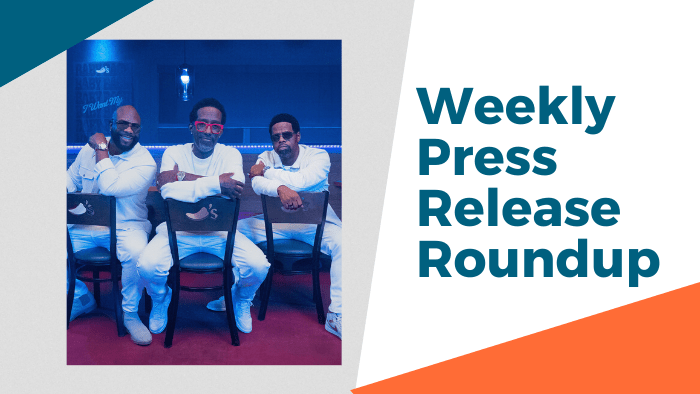 With thousands of press releases published each week, it can be difficult to keep up with everything on PR Newswire for Journalists.  Here are some of this week's most newsworthy.
To help journalists stay on top of the week's most newsworthy and popular releases, here's a recap of some major stories from the week that shouldn't be missed.
The list below includes the headline (with a link to the full text) and an excerpt from each story. Click on the press release headlines to access accompanying multimedia assets that are available for download.
The group's harmonizing skills led many to believe they were the original vocalists of the jingle, so finally, Boyz II Men got a chance to give the original a smooth '90s-inspired makeover. Fans are encouraged to use the 'Duet' feature on TikTok to add their own flair to the jingle or add it to their favorite playlist on Spotify.
The Economist's World Ahead 2024 launches this week, featuring future-gazing content from The Economist's editorial team and global contributors.
"Building on our strengths, this plan will enable Goodyear to enhance and expand our leadership position, deliver profitable growth across markets, create significant value for our shareholders and – ultimately – lay the foundation for success for the next 125 years," said Goodyear Chairman, CEO and President Richard J. Kramer.
The new Toys"R"Us flagship store at Mall of America spans over 11,000 square feet and offers a wide assortment of the hottest toys and games for Toys"R"Us kids of all ages. Families can shop for their favorite toys, take a photo with Geoffrey the Giraffe, and rediscover their love of play.
"Disney is an economic catalyst to the state of Florida generating billions in economic activity, either directly, or indirectly through its supply chain and the spending of employees," said Adam Sacks, President of Tourism Economics, a division of Oxford Economics.
Building on a child's innate wonder and curiosity of the natural world, Open OutDoors for Kids grants allow students to immerse themselves in national parks through field trips, classroom engagements, and educational activities. The program's goal is to deepen connections to our natural and cultural world, creating lifelong national park stewards.
The heavy metal Tungsten debit card, exclusive to Acorns, was constructed to address a fundamental American problem: overspending and under-saving. The Mighty Oak Card offers an entirely new way of banking, helping people grow their financial knowledge and invest towards their future – simply by using it.
Through Express Scripts ClearNetwork, clients pay a straight-forward estimated acquisition cost for individual medications, in addition to a small markup for pharmacy dispensing and service costs.
Created by Black 3D artists, Code my Crown provides step-by-step instructions and 360-degree photo mapping so that any developer – anywhere – can build and better represent Black hair textures and styles in the digital world.
AYS? serves as an anti-harassment feature that asks users to think twice before sending a message, providing a warning in real-time to users about their opening line. The feature uses automated tools to detect potentially harmful language and proactively intervenes to warn the sender that their message may be offensive, asking them to review and consider editing it before hitting send.
Forty-one percent of respondents said they plan to take a road trip this year, an 8% increase from 2022. Additionally, the national average price of gas is projected to drop to $3.25 per gallon, saving Americans $573 million during holiday travel compared to last year.
Hyundai will begin a wage strategy in January 2024 that will result in U.S. production team member hourly wages increasing 25% by 2028. The company is increasing its wage structure to remain competitive and to recruit and retain top talent.
Read more of the latest releases from PR Newswire and stay caught up on the top press releases by following @PRNalert on Twitter.
Can't-Miss Earnings
In addition to these popular releases, several must-read earnings reports crossed the wire this week, including the quarterly results for Cisco, Target, Canoo, and U.S. Postal Service.
Catch up on all the latest earnings reports here.
Want to see more news like this? Keep up with the latest news in your coverage area with a customized newsfeed. Click here to sign up now or email us to fine-tune your existing profile.