ALDI Thanksgiving Deals, "ERAS TOUR" IMAX Success, Peloton Partnership with NBA, WNBA | This Week on PR Newswire
4 min read
Also in the weekly press release roundup, Victoria's Secret launches adaptive collections and Southwest Airlines updates its rewards program.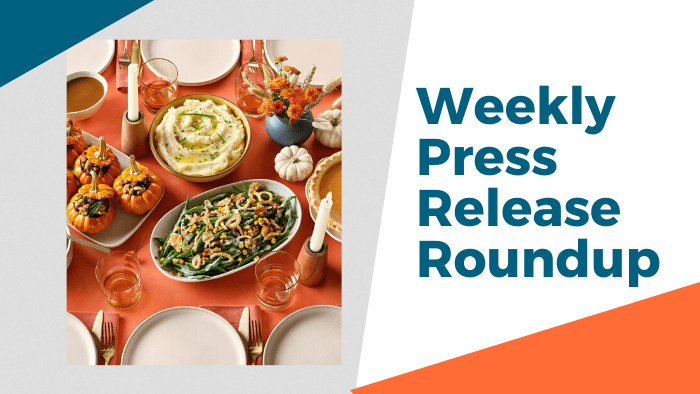 With thousands of press releases published each week, it can be difficult to keep up with everything on PR Newswire for Journalists.  Here are some of this week's most newsworthy.
To help journalists stay on top of the week's most newsworthy and popular releases, here's a recap of some major stories from the week that shouldn't be missed.
The list below includes the headline (with a link to the full text) and an excerpt from each story. Click on the press release headlines to access accompanying multimedia assets that are available for download.
"While our Board would support a value-maximizing transaction, given the substantial, unmitigated embedded risks and value destruction potential presented by the proposed transaction, our Board determined it is not in the best interests of Wyndham shareholders," said Stephen P. Holmes, Chairman of the Wyndham Board of Directors.
To help customers spend less and seat more guests this Thanksgiving, ALDI is dishing out a big helping of savings on over 70 holiday classics. Starting Nov. 1, and lasting throughout the entire holiday season, customers will see price reductions of up to 50% on items across the store.
"So far, the US economy has shown considerable resilience despite pressures from rising interest rates and high inflation. Nonetheless, The Conference Board forecasts that this trend will not be sustained for much longer, and a shallow recession is likely in the first half of 2024," said Justyna Zabinska-La Monica, Senior Manager, Business Cycle Indicators, at The Conference Board.
The tasty fall fest is a creative spin on a traditional food and wine fair, offering guests of all ages the chance to indulge in innovative gastronomy and beverages. The event occurs from November 3, 2023 to November 30, 2023, with a special Thanksgiving menu available over the holiday.
"With this film, Taylor Swift has created an experience that is cinematic in every sense of the word — dazzling, immersive, and undeniably joyous — and in the sound and scope of IMAX it's the closest thing to being at the concert itself," said Rich Gelfond, CEO of IMAX.
Together, members will define best practices for hosting online reviews and sharing methods of fake review detection, aiming to stop fake reviews at the source.
"Vibrant, fun and full of flavor and energy, the Sour Candy Rebel is the perfect drink to fuel any and all fall activities," said Tana Davila, chief marketing officer at Dutch Bros. "This drink isn't here for long, so you'll definitely want to get it while you can because it's scary good!"
The agreement enables greater collaboration to achieve improved quality and higher deliveries in the future. "Boeing and Spirit will continue to work shoulder to shoulder to mitigate today's operational challenges," said Spirit AeroSystems.
"This new solution will enable our customers to modernize their SOC operations helping them to stay a step ahead of the adversary. It will be invaluable to CISOs in overcoming the challenges they face, including an evolving threat landscape and resource constraints," said Nathan Jenniges, SVP & GM Spark, Cybersecurity Business Unit, BlackBerry.
For the first time ever, the brand is extending its operating hours until midnight in select college towns on Halloween, giving fans in these select locations more time to enjoy the digital Boorito offer.
The enhancements reward the airline's loyal Members by making it easier for Customers to earn tier status; awarding A-List Preferred Members with up to two complimentary premium drinks; and allowing Customers to pay for Southwest® flights using a combination of cash and Rapid Rewards® points.
The collaboration will make NBA League Pass, the league's premium live game subscription service, available to stream across compatible Peloton devices in the fitness platform's new Entertainment hub, which will launch during the 2023-24 NBA season – a first-of-its-kind Peloton offering.
The collections are reflective of the company's mission to celebrate women of all body types, sizes and abilities, and it is proud to be the first major fashion brand to offer adaptive intimate products both online and in select stores.
Employees want their employers to care about their overall wellbeing and provide resources to stay ahead of burnout, but the Aflac study shows their confidence is waning — causing some to consider other job opportunities.
Read more of the latest releases from PR Newswire and stay caught up on the top press releases by following @PRNalert on Twitter.
Can't-Miss Earnings
In addition to these popular releases, several must-read earnings reports crossed the wire this week, including the quarterly results for AT&T, United Airlines, and Bank of America.
Catch up on all the latest earnings reports here.
Want to see more news like this? Keep up with the latest news in your coverage area with a customized newsfeed. Click here to sign up now or email us to fine-tune your existing profile.