Add These Upcoming Events for Journalists and Bloggers to Your Calendar
2 min read
Upcoming events for journalists and bloggers will cover how to design visuals, improve your travel content, and more.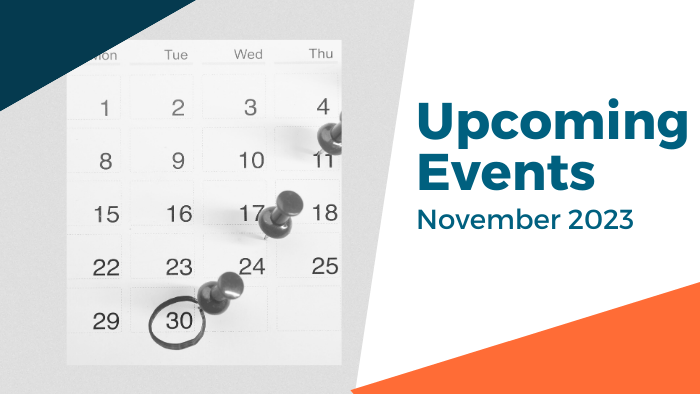 Welcome to Blogger Events, a monthly column of upcoming blogger and journalist events that we think you should know about. Plan even further ahead and bookmark our page with upcoming events for the entire year.
As we approach the end of the year, there's still time to add an event or two to your calendar. Brush up on existing skills or learn something new to take into the new year.
Upcoming events for journalists and bloggers will cover how to design visuals, improve your travel content, and more.
Multiple Dates: Pinners Conference & Expo
If you create content on DIY projects, cooking, home improvement, or anything else craft-related, the Pinners Conference are the place to be. Creators can head to Salt Lake City (Nov. 3-4) or Scottsdale, Ariz. (Nov. 10-11) for hundreds of hands-on workshops and classes. These events are the perfect time to add some holiday-focused projects to your skillset.
During this one-hour virtual workshop, Beth Francesco, the National Press Club Journalism Institute's executive director, will help journalists and comms professionals get a head start in designing visuals. The beginner course will cover the basics of choosing fonts and colors, design tools to know, and exercises to develop attendees' design thinking.
Hosted by the International News Media Association (INMA), this course will be broken down to cover four major topics concerning newsrooms: trust, business models, innovation, and leadership. Throughout the four sessions, attendees will "get a mini-MBA in newsroom management and come away with ideas and tools you can apply tomorrow to the challenges you face today." Sessions will take place over Zoom.
This conference is designed for travel content creators interested in exploring Northwest destinations. Attendees will build relationships through one-on-one meetings with destination marketers, learn about current topics in travel content, and be able to explore the area. This year's event, which is invitation-only, takes place in Missoula, Montana.
The "world's premier tech conference" will take place in Lisbon, Portugal. Educational masterclasses and roundtables will cover topics like deep tech, data science, design, and environmental sustainability. Despite the recent controversy surrounding the company's CEO and several big names pulling out of the event as a result, Web Summit is still expected to take place as planned.
Enter your email address to subscribe to this blog and receive notifications of new posts by email.