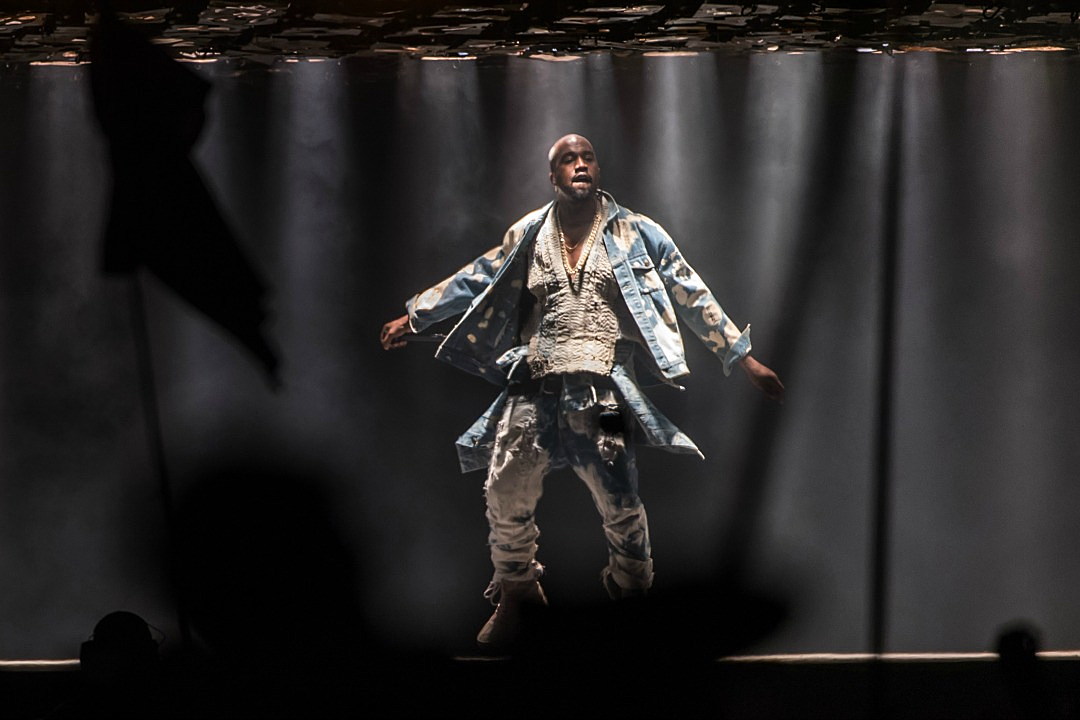 Security had one freakin' job. One! Kanye West's highly anticipated Glastonbury Festival performance went down yesterday. You know, the one that over 100,000 people boycotted. The one that Foo Fighters member David Grohl commented, "[West] could walk out there and have 100,000 people bottle him on stage." The same show organizers were getting death threats over because of Yeezy's appearance! Yeah, that one. Instead of security acting accordingly and being on high alert, they let an opportunistic concertgoer rush the stage while West was rapping and jump around in the MC's face for what seemed like way too long before security forcefully removing him.
West played it cool, i.e he didnt give dude the eye jammy. Immediately after the perpetrator was removed, he asks the DJ to run back the song he was on. He clearly didn't seem happy that someone was able to get that close to him during his performance.
The man who rushed the stage, was rocking a shirt that read "Lee-Zus", and has been identified as English comedian Lee Nelson, who apparently pulled the publicity stunt as some sort of joke. He later posted, "I Kanye'd Kanye. That was for you @taylorswift13 #Leezuz," on his Twitter account. All jokes aside, if this had been a deranged man with a knife who really had it out for Kanye, this could have been a tragic situation.
A fan has just went on stage and interrupted Kanye pic.twitter.com/UDjMcwjPUE

— JayJChillin (@JayJazzi) June 27, 2015
Intruder took over Kanye's performance 😂 http://t.co/9g43C0j1l4

— JayJChillin (@JayJazzi) June 27, 2015
I Kanye'd Kanye. That was for you @taylorswift13 #Leezus pic.twitter.com/EQJtZUJqhS

— Lee Nelson (@RealLeeNelson) June 28, 2015
Luckily, the rest of the show went on without incident with West performing an impressive 28-song set of nothing but the hits. At one point he yelled out, "You are now watching the greatest living rock star on the planet."
Stream the entire performance, below.