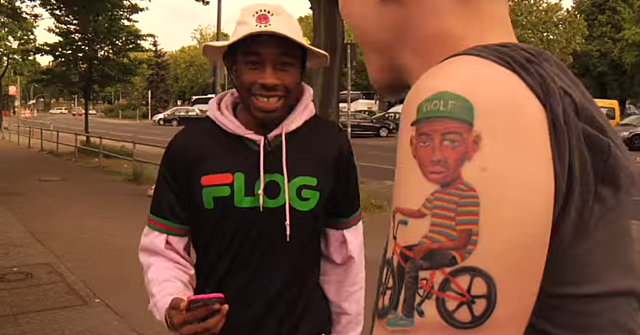 Well this is the most disgusting thing you'll probably see today (hopefully). During Tyler, The Creator's Cherry Bomb tour in Europe, footage was release of Tyler performing in London and bringing a fan onstage. Things suddenly takes a turn for the worst when Tyler pays the fan about $30 to eat Jasper Dolphin's vomit off of a t-shirt. It's pretty gross and not anyone of the faint-of-heart (definitely not for anyone to watch with a weak stomach, seriously). The scene happens at about the 29 seconds mark into the video.
The 24-year-old rapper made a brief documentary, recording all of his many adventures as he travels overseas and released it today via his new app Golf Media. Other cool scenes in the video was a girl who had Tyler's face tattoo'd on her inner bicep. If you're in Australia, you may not get to see the charismatic MC because an interest group known as Collective Shout has petitioned the country's immigration minister to deny the rapper a visa on the grounds that his lyrics promote violence toward women, including rape. "We can't ignore someone who comes here and advocates rape and extreme violence against women through his lyrics," said Collective Shout co-founder Melinda Tankard Reist.
Tyler however is the happiest he's ever been and he's not express it. When a fan posted a lengthy tirade about Tyler, The Creator called "I'm done with Tyler" on OFWGKTA's Reddit page. The thread caught Tyler's attention and the rapper posted a lengthy response of his own about how he has evolved as an artist and a person and touched on Odd Future's current situation.