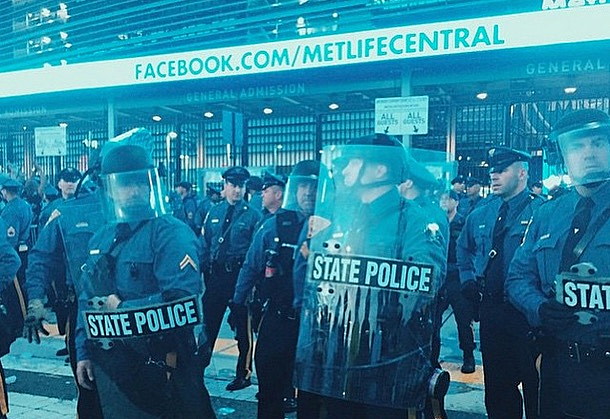 Riots broke out outside of Hot 97′s Summer Jam concert. Reports say that a mob of individuals tried to rush the entrance and police had to step in. There have reportedly been several arrests at MetLife Stadium tonight. Police were in riot gear and confronted the rioters. Video captured via social media show bottles being thrown at officers and police helicopters over the stadium parking lot. Things escalated when the state police reportedly teargassed the crowd.
View clips from the incident below.
BREAKING VIDEO: Riots break out at MetLife Stadium at Summer Jam event. Video Via: @joetorious_ Instagram pic.twitter.com/386xQi3nJ1

— N. Jerzy Fire Alert (@NJerzyFireAlert) June 8, 2015
Summer Jam riots going 📈 pic.twitter.com/TsTBk8wgZy

— 40 (@40oz_VAN) June 8, 2015
Police RIGHT NOW outside of Hot 97 Summer Jam…. pic.twitter.com/JKHGOZRCAq

— DJ Akademiks (@IamAkademiks) June 8, 2015
Ah. Mini riot… Ya'll tried it with the Troopers eh? … I remember 1 year … They brought the dogs in.. Was like 2004…

— Blame Ebro el Viejo (@oldmanebro) June 8, 2015
Armored vehicle with LRAD now blocking the entrance to MetLife Stadium. #SummerJam pic.twitter.com/rpU2QRBMca

— The FADER (@thefader) June 8, 2015
How does outside Summer Jam look like this right now and not one mention of it on this stream yet? pic.twitter.com/9ED5PooWcX

— Kenny (@PhillyCustoms) June 8, 2015
Hot 97 said on their Facebook page that they will make refunds for individuals who didn't have their ticket scanned
Update: For those whose SJ tickets were not scanned, refunds will be offered at point of purchase.

Posted by HOT 97 on Sunday, June 7, 2015
A Spokesperson at Emmis New York sent in the following statement to XXL:
Due to strong demand for tickets for Summer Jam 2015, the show sold out early this evening. When fans realized tickets were not available at the box office, a small number of people created an unsafe environment, and for the safety of all guests, the New Jersey State Police were on scene to disperse the crowd. The gates were closed at that time. No further entry was permitted into the event.For ticket holders whose tickets were not scanned, refunds will be offered at the point of purchase.
We'll update here as we learn more.
Related: 50 Cent and G-Unit Were Almost Not Allowed in Summer Jam
DeJ Loaf Is Dropping an EP This Month
Stream Hot 97′s Summer Jam 2015 Feat. Kendrick Lamar, Chris Brown, Fabolous, Meek Mill and More