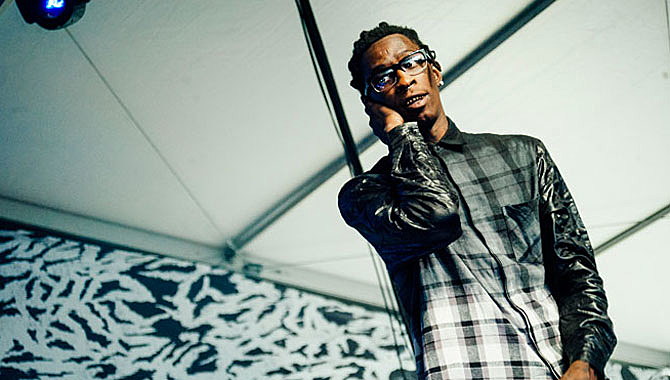 Is this the reason why Rich Homie Quan is stepping away from Rich Gang?
At a recent concert on the Rodeo tour with Travi$ Scott, Young Thug took a shot at RHQ, calling him "bitch homie quan." Quan and Thugger have been connected by the hip for years. But  last month Rich Homie Quan shared the news that he's temporarily stepping away from Birdman and Rich Gang so he can focus on his solo career. Coming off a nine-day tour in Canada, Quan did an interview with The Durtty Boyz on Atlanta's Hot 107.9. During an off-air break, Homie Quan told ET and Stuey that he's "stepped away from the Rich Gang a little bit just to get back to Quan." He did point to say that things with Birdman and the crew are cool "for the moment."
Thugga and Quan were supposedly going to drop a project together. No word on if that is going to happen now. Back last December nine songs from Rich Homie Quan and Young Thug were leaked on the web. It was rumored to be on the tape project. It would be pretty sad if these two who once called themselves brothers are beefing. Rich Homie spoke to us about why his chemistry with Thugga is so strong.
"We went to middle school together, born and raised in Atlanta," said Quan. "When me and Thug are in the studio, we're literally in the booth with each other and helping one another. It's no competition, we're just trying to help each other and want the music to sound good. Making it the way it can't be duplicated. Every time me and Thug make music it's beautiful. I always expect the unexpected with him and me."
Watch the concert clip below. XXL has reached out to reps of Rich Homie Quan for comment.
Related: Young Thug Doesn't Buy Jay Z Albums Anymore Because He's Old
Watch A 19-Year-Old Young Thug Predict He'd Work With Cash Money One Day
Rocko Feat. Young Thug, 'Lil Girl Sh-t'